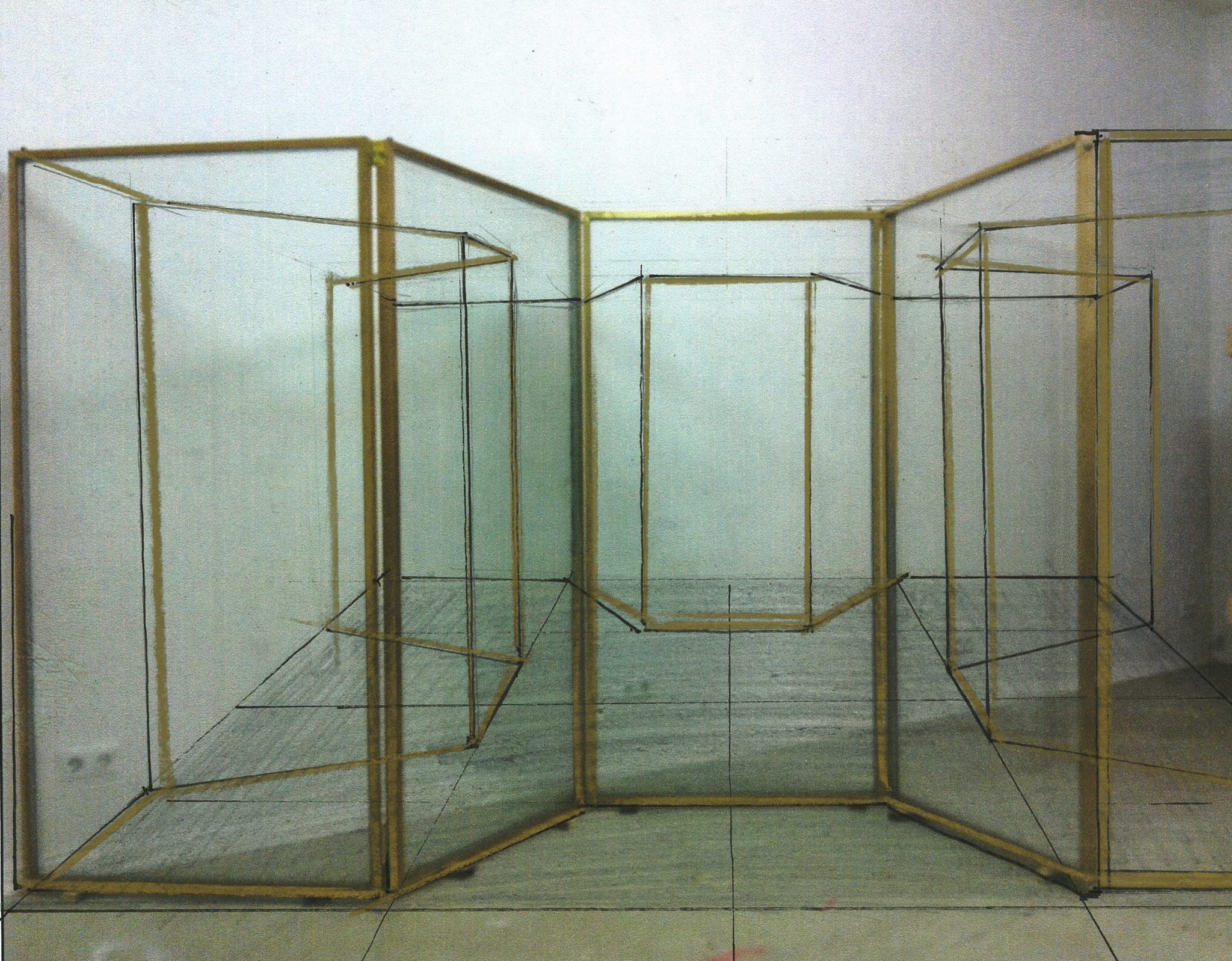 Reijiro Wada - Portal Landscape
HaL-Hofskulptur #1
26. Mai – 16. Oktober 2016
hofskulptur
Reijiro Wada, Portal Landscape, 2016 (Foto: Enric Duch)
Reijiro Wada, Portal Landscape, 2016 (Foto: Enric Duch)
Reijiro Wada, Portal Landscape, 2016 (Foto: Enric Duch)
Reijiro Wada, Portal Landscape, 2016 (Foto: Enric Duch)
Reijiro Wada, Portal Landscape, 2016 (Foto: Enric Duch)
Reijiro Wada, Portal Landscape, 2016 (Foto: Enric Duch)
Please scroll down for English version
Eröffnung: Mittwoch, 25. Mai 2016, 19 Uhr
Der japanische Bildhauer Reijiro Wada (*1977) eröffnet mit "Portal Landscape" ein neues Ausstellungsformat im HaL. Im jährlichen Rhythmus wird das gepflasterte Geviert im Hof als Plattform für eine Skulptur dienen, die dort während der Sommermonate unabhängig von anderen Projekten des Hauses ein Publikum erhält.
"Portal Landscape" ist eigens für diese Präsentation geschaffen worden und nimmt die Proportionen und Maße einer Pflasterung im Hofgarten des HaL auf. Die Skulptur besteht aus zwanzig doppelwandigen Glaspanelen, die von einer sternförmigen Rahmenkonstruktion gehalten werden. Zwischen den Glasplatten befindet sich ein Hohlraum, der auf gleicher Höhe mit Wasser befüllt wird und dadurch eine einheitliche Horizontlinie bildet, die alle Panele miteinander verbindet. Durch die Einwirkungen des Sonnenstandes und der sich verändernden Lufttemperatur verdampft das Wasser und kondensiert wieder an den Innenseiten der Scheiben. Durch diesen mikroklimatischen Prozess ist die Sichtbarkeit der Skulptur von einem permanenten Wandel geprägt. Die feste Materie der Rahmenkonstruktion und des Glases kontrastiert mit den ephemeren Qualitäten des Wassers als bildhauerisches Material. Entscheidend ist auch das Verhältnis des von den transparenten Glasscheiben umfassten Innenraums zu dem Raum der Betrachtenden außerhalb der Skulptur. Beide Bereiche sind kaleidoskopartig rein visuell miteinander verbunden, aber durch die Pforten aus Glas voneinander getrennt. Die Horizontlinie des Wasserstandes ist in der Syntax der Skulptur eine Grenze zwischen zwei Elementen. Ebenso bilden die Glasscheiben eine Barriere zu dem unerreichbaren Inneren der Konstruktion.
"Portal Landscape" wird realisiert mit freundlicher Unterstützung der Nomura Foundation
und der Pola Art Foundation
Banner-Bild: Reijiro Wada, Entwurfszeichnug für "Portal Landscape", 2015 (Detail)
---
Opening: Wednesday, Mai 25, 2016, 19h
With the opening of "Portal Landscape", the Japanese sculptor Reijiro Wada (* 1977) introduces a new exhibition format at HaL. In an annual rhythm, the paved square in the courtyard will serve as a platform for a sculpture, presented during the summer months independent of HaL's other projects.
"Portal Landscape" was created specifically for this presentation and works with the proportions and dimensions of the pavement in the HaL courtyard garden. The sculpture consists of twenty double-walled glass panels, which are held by a star-shaped frame. Between the glass panels is a hollow space, which is filled to the same height with water, thus forming a uniform horizon line that connects all panels. Depending on the sun's influence and ambient temperatures, the water in the panels evaporates and condenses. Due to this micro-climatic process, the visual appearance of the sculpture is defined by permanent change. The solid matter of the frame and the glass contrast with the ephemeral qualities of water as a sculptural material. Another crucial element is the relationship of the interior volume within the transparent glass panes and the observation space surrounding the sculpture. Both areas are connected only visually in a kaleidoscopic arrangement while remaining separated by the portals of glass. In the syntax of the sculpture, the horizon line of the water level is a border between two elements. At the same time, the panes of glass form a barrier to the inaccessible interior of the structure.
"Portal Landscape" is realized with the friendly support of the Nomura Foundation
and the Pola Art Foundation
Banner image: Reijiro Wada, Drawing for "Portal Landscape", 2015
---