Amada Verde
kuratiert von Marte Kiessling
6. November 2021 – 30. Januar 2022
studiogalerie
Stig Marlon Weston, "Riversamples", Miki Yui and Nathalia Favaro, "FLUX Film" / Copyright all images Carsten Eisfeld
Stig Marlon Weston, "Riversamples", Miki Yui and Nathalia Favaro, "FLUX Film" / Copyright all images Carsten Eisfeld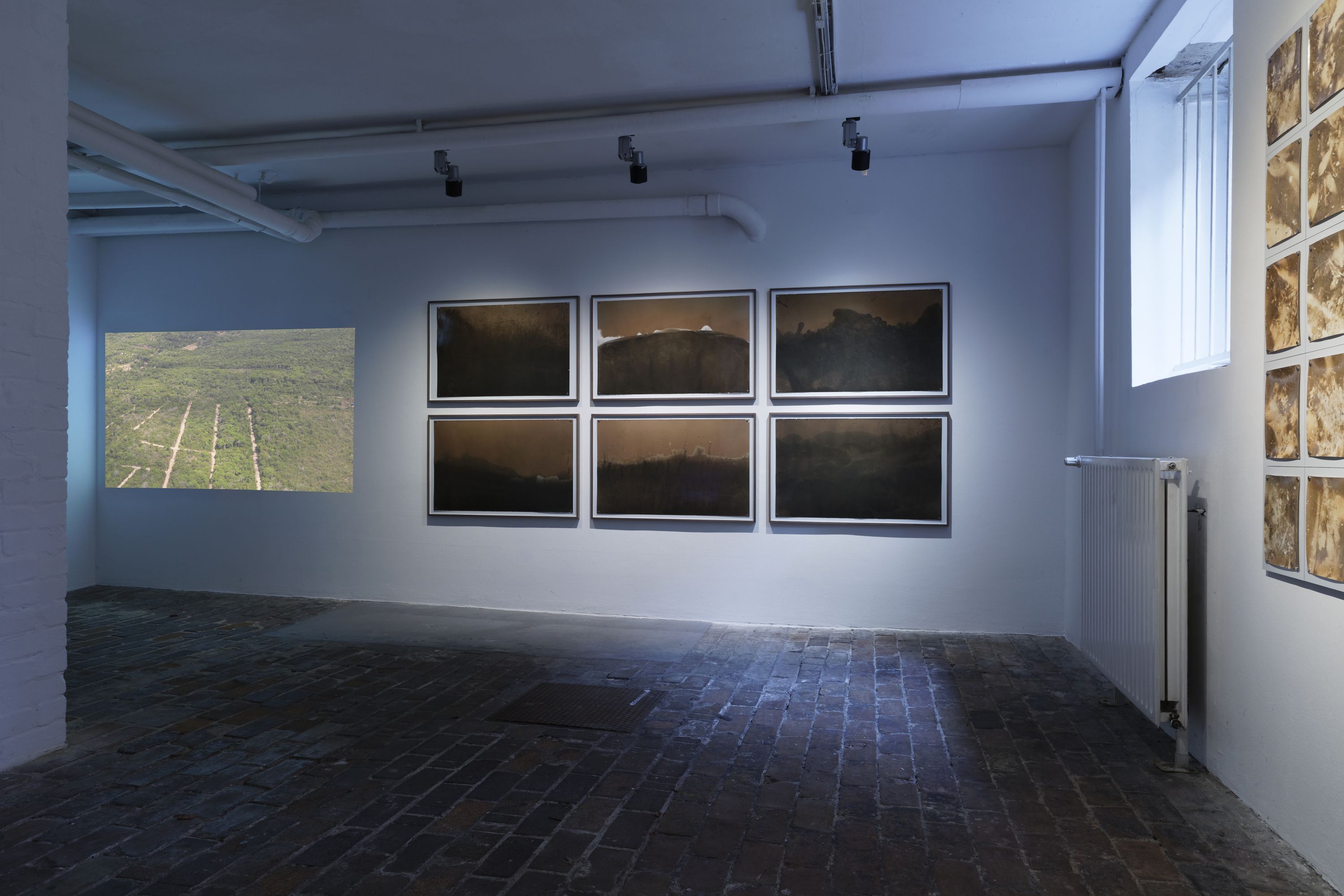 Stig Marlon Weston, "Riversamples", Miki Yui and Nathalia Favaro, "FLUX Film" / Copyright all images Carsten Eisfeld
Stig Marlon Weston, Milda Lembertaité, Amelia Prazak, Tina Ribarits / Copyright all images Carsten Eisfeld
Stig Marlon Weston / Tina Ribarits / Copyright all images Carsten Eisfeld
Stig Marlon Weston / "Microclimate #1", "Microclimate #2" / Copyright all images Carsten Eisfeld
Stig Marlon Weston / "Microclimate #1", "Microclimate #2" / Copyright all images Carsten Eisfeld
Milda Lembertaité, "Bulky", Luzia Simons, "The presence of absence" / Copyright all images Carsten Eisfeld
Milda Lembertaité, Stig Marlon Weston, Marte Kiessling "Paradise Lost – the edition of dreams" / Copyright all images Carsten Eisfeld
Milda Lembertaité, Stig Marlon Weston, Marte Kiessling "Paradise Lost – the edition of dreams" / Copyright all images Carsten Eisfeld
Milda Lembertaité, Stig Marlon Weston, Marte Kiessling "Paradise Lost – the edition of dreams" / Copyright all images Carsten Eisfeld
Milda Lembertaité and Amelia Prazak, "Come and see Why Do I See What I Do Not See" / Copyright all images Carsten Eisfeld
Milda Lembertaité and Amelia Prazak, "Come and see Why Do I See What I Do Not See" / Copyright all images Carsten Eisfeld
Milda Lembertaité and Amelia Prazak, "Come and see Why Do I See What I Do Not See" / Copyright all images Carsten Eisfeld
Milda Lembertaité and Amelia Prazak, "Come and see Why Do I See What I Do Not See" / Copyright all images Carsten Eisfeld
Milda Lembertaité and Amelia Prazak, "Come and see Why Do I See What I Do Not See" / Copyright all images Carsten Eisfeld
Tina Ribarits, "The other Planet I", "The other Planet II", Milda Lembertaité, Stig Marlon Weston / Copyright all images Carsten Eisfeld
please scroll down for English version
Eröffnung: Freitag, 5. November 2021, 19 Uhr
Sonderöffnungszeiten: vom 13. – 16. Januar 2022 und 20. – 22. Januar 2022 ist die Ausstellung zwischen 14 – 18 Uhr geöffnet und kann über den Hof der Stiftung Warentest besucht werden.
Beteiligte Künstler*innen:
Nathalia Favaro
Marte Kiessling
Milda Lembertaité
Amelia Prazak
Tina Ribarits
Luzia Simons
Stig Marlon Weston
Miki Yui
Webseite zur Ausstellung: www.amadaverde.com
Zweifelsohne – überall auf der Welt verschwinden Wälder mit alarmierender Geschwindigkeit. Noch vor 20 Jahren war mehr als ein Drittel unseres Planeten von Wäldern bedeckt. Und heute? Nur noch ein Viertel der Landmasse ist von Wald bewachsen. Dieser immense Verlust bedroht die wirtschaftlichen und ökologischen Grundlagen unseres Lebens auf lokaler, regionaler und globaler Ebene. Wie wird sich diese Entwicklung auf unser Leben, unsere Zukunft, unser Überleben auswirken?
Die Ausstellung Amada Verde zeigt eine Auswahl von Künstler*innen, die Teil des internationalen Residenzprogramms LABVERDE in Brasilien waren. LABVERDE möchte die Grenzen der "klassischen" Kunst erweitern, indem die Teilnehmer*innen an einem intensiven Programm mit Wissenschaftlern und Einheimischen direkt im Amazonas Regenwald teilnehmen und damit ein breites Spektrum an Erfahrungen, Wissen und kulturellen Erfahrungen zwischen Kunst, Wissenschaft und Natur erlangen. Die hierbei entwickelten Arbeiten zu Umweltthemen und den Erfahrungen im Amazonas-Regenwald werden im Haus am Lützowplatz präsentiert.
Alle Künstler*innen beschäftigen sich mit ähnlichen Ideen und Ansichten über Natur, Nachhaltigkeit und die Zukunft unseres Planeten, nähern sich dem Thema jedoch aus unterschiedlichen Blickwinkeln und schaffen so insgesamt einen dichten und üppigen "Dschungel" an Kunstwerken. Von humorvollen Ansätzen und performativen Arbeiten bis hin zu poetisch-künstlerischen Darstellungen des Verfalls und des sich ständig wiederholenden Kreislaufs des Lebens lädt die Ausstellung die Besucher ein, in den Amazonas Regenwald einzudringen, in die Klänge, die Gerüche…
Über die teilnehmenden Künstler:
Milda Lembertaité und Amelia Prazak
Amelia Prazak ist eine in London ausgebildete Schweizer Künstlerin, sie arbeitet an den Schnittstellen von Video, Kostüm und Performance. Ihre Kunst regt Gedanken über die Beziehung zwischen Menschen, ihrem Körper und ihrer Umwelt an – diese eigentümliche Beziehung, welche die Menschheit in ihrem Drängen nach Aneignung, kultureller Interpretation und Kontrolle entwickelt hat. Es geht um Beobachtung, um Fragmente. Ihre Ausbildung im Bereich Kunst und Theater hat ihr eine Vielzahl von Kooperationen mit Choreografen, Musikern, Tänzern und Filmemachern ermöglicht. Ihr künstlerisches Hauptwerk ist in Partnerschaft mit Milda Lembertaitė entstanden, mit der sie seit 2011 in dialogischem Austausch steht.
https://www.sistersfromanothermister.co.uk
Milda Lembertaitė kombiniert verschiedene künstlerische Medien zu einer nuanciert kritischen Untersuchung unserer Beziehung zu Natur, Technologie und Geschichte mit einem freizügigen Geist der Materialforschung und einer schlauen, oft surrealen Verspieltheit. Wie können wir Wege finden, um zu helfen, wenn wir stehlen, was immer wir anfassen? Was bedeutet es, sich zusammenzuschließen, um uns mit Technologien zu schützen, die im Grunde schädlich sind? Es sind eben diese Spannungen zwischen Intimität und Entfremdung, zwischen "Verbündeten" und "Touristen", die die Grundlage für Lembertaits künstlerische Arbeit bilden.
Indem sie natürliche und künstliche, technische Objekte miteinander verbindet und aus persönlichen, kollektiven und erdgeschichtlichen Erzählungen schöpft, verwischt Milda die Grenze zwischen menschlichen und nicht-menschlichen Erfahrungen und sieht zweifellos auf ein manchmal schönes, manchmal tragisches, aber immer geteiltes Schicksal und fragt: Wie könnten wir uns daran erinnern, woher wir gekommen sind?
Miki Yui and Nathalia Favaro
Nathalia Favaro, geboren in São Paulo, Brasilien, ist Architektin, Designerin und Künstlerin. Diese komplementären Felder spielen in ihrer künstlerischen Forschung eine zentrale Rolle. Sie verwendet Ton, Zeichnungen, Fotografie und Video für ihre Arbeit. Favaro studierte 2006 Architektur an der Mackenzie University und 2010 Design an der Senac. Sie nahm an mehreren Artist-in-Residence-Programmen teil, zum Beispiel am EKWC-European Ceramic Work Center in den Niederlanden im Jahr 2017, bei Gaya Ceramics, Indonesien, und Labverde, Brasilien, beides im Jahr 2018.
Miki Yui, geboren in Tokio, Japan, lebt seit 1994 als Künstlerin, Komponistin und Musikerin in Düsseldorf. Als multidisziplinäre Künstlerin überschreitet sie regelmäßig die Grenzen von Musik, Performance, Zeichnung und Installation. In ihren Werken erforscht sie die Grauzone unserer Wahrnehmung und Vorstellungskraft und schafft subtile und poetische Arbeiten. Sie studierte an der Tama Art University in Tokio, der Kunstakademie Düsseldorf und der Media Art Academy. Ihre Arbeiten werden hauptsächlich in Europa und Asien gezeigt.
"Miki Yuis Arbeit beschäftigt sich mit der Erinnerung an Erlebtes. Sie konzentriert sich insbesondere auf Bilder und Töne und macht die Spur sichtbar, die diese beim Verblassen hinterlassen, direkt nachdem sie aufgetreten sind (im ersteren Fall) oder produziert wurden (im letzteren Fall)." – Carlo Fossati, e/static
mikiyui.com
Beide Künstler haben an dem Film FLUX mitgewirkt, der im HAL gezeigt wird. FLUX ist ein Film, ein poetischer Essay, der Nathalias Reise durch den Amazonaswald und ihre Begegnungen mit Protagonisten aus dem Wald und am Flussufer zeigt.
Luzia Simons
Luzia Simons, geboren in Quixadá, Ceará, Brasilien, hat Geschichte und Bildende Kunst an der Sorbonne in Paris studiert. Sie lebt und arbeitet in Berlin. Simons interessiert sich für historische Bezügen und verfolgt in ihren fotografischen und zeichnerischen Arbeiten. Das Eintauchen in den Amazonaswald veranlasste sie, über die Mechanismen nachzudenken, die ihn erneuern, annullieren, umwandeln. Europäische Naturforscher haben die brasilianische Natur in ihren Aquarellen, Zeichnungen und Reisebeschreibungen festgehalten. Simons eigene Aquarelle wiederum entstanden aus Blättern, die von der Künstlerin während der Residenz gesammelt wurden. Anstelle einer traditionellen botanischen Illustration liegt ihr Fokus jedoch auf den Leerräumen der Blätter, welche die Dichotomie zwischen Präsenz und Abwesenheit bilden. In diesem Sinne dienen die Aquarelle als Metapher für den von Mensch und Wirtschaft erzeugten Wandlungsprozess des Waldes, welche unmittelbar Einfluss auf die Klimatischen Bedingungen haben und somit in einer großen Leere enden.
Tina Ribarits
Geboren in Wien, Österreich, lebt in Berlin und Wien. Ribarits arbeitet mit einem konzeptuellen Ansatz in verschiedenen Medien zu Themen der Ökologie, kolonialer und feministischer Vergangeneiten, Exotismus und Nicht-Anthropozentrismus. Sie kombiniert Videos, Fotos, Zeichnungen und skulpturale Elemente in installativen Environments.
Im Zentrum ihrer Arbeit "the other planet", sowohl räumlich als auch konzeptionell, steht ein üppiger, grüner Wald. Die Kamera bewegt sich langsam über riesige Blätter, untersucht jeden Winkel und lässt den Betrachter in diesen überwältigenden Raum eintauchen… Wie in anderen Werken von Tina Ribarits gibt es jedoch einen Twist. Diese scheinbare Simulation deutet nämlich auf computergenerierte, stereoskopische 3D-Bildgebung hin, ist aber das Ergebnis von Ribarits' realem Aufenthalt im brasilianischen Amazonasgebiet…
All das will jedoch nicht die Kolonialgeschichte des Amazonasbeckens ignorieren, oder die kolonialen Implikationen "das Wirkliche" gegen das Andere auszuspielen. Ein Video, das eine lange, beharrliche Aufnahme entlang des Amazonas-Flusses zeigt, ist ein klarer, wenn auch multifunktionaler Verweis auf eine Reihe von Quellen, die diese Geschichten in Erinnerung rufen: von "Herz der Finsternis" über "Apocalypse Now" zu "Fitzcarraldo". Der Kongo, Vietnam, der peruanische und der brasilianische Amazonas sind zu einem einzigen kolonialen Blickwinkel verschmolzen, auf einem Boot, im Wasser fahrend; Teil der Szene, aber auch außerhalb davon. (Johanna Linsley)
Marte Kiessling
Die Menschheit sehnt sich schon lange nach einem Ort, den sie Paradies nennen; dieser mystische Ort, von welchem die Menschen glauben, verbannt worden zu sein und an welchen sie letztendlich zurückkehren möchten. John Milton beschreibt in seinem epischen Roman "Paradise Lost" den schmerzlichen Verlust, der mit dem verlorenen Paradies einhergeht, aber er ist hierbei nicht der einzige – die Suche nach einer Möglichkeit zur Rückkehr an diesen Ort beschäftigt die Träume und Wünsche der meisten Menschen, oft mittels religiöser Handlung und als Ziel für "korrektes" Verhalten betrachtet. Aber zurück zur Realität – was ist es wirklich, dieses sogenannte Paradies? Diese Idee, dieser Wunsch, dieser Traum? Ist es ein physischer Raum auf unserem Planeten oder ein mystischer im Jenseits? Oder könnte es auch ein Gefühl sein? Ein Geisteszustand? Der Film PARADISE LOST – THE EDITION OF WISHES verfolgt diesen Gedanken, indem er verschiedenen Personen dieselbe Frage stellt: "Was bedeutet 'Paradies' für dich?" Vor der Kulisse eines der letzten paradiesischen Orte der Erde, dem Amazonas-Regenwald, erhält der Betrachter die unterschiedlichsten Antworten: von religiösen Ansichten über die Angst vor dem Unbekannten, vom perfekten Tag bis zur kompletten Ablehnung der Vorstellung vom Paradies. Kiessling wurde in Süddeutschland geboren. Derzeit lebt und arbeitet sie in Berlin und nimmt regelmäßig an Projekten, Ausstellungen und Künstlerresidenzen auf der ganzen Welt teil.
Stig Marlon Weston
Weston beschäftigt sich mit prozessorientierter Fotografie und hinterfragt, ob diese wirklich einen wahrheitsgetreuen Standpunkt wiedergeben oder die subjektive Interpretation beschreiben und verdeutlichen kann. Er stellt die Tradition der Landschaftsfotografie in Frage und nahm an LABVERDE teil, um zu untersuchen, mit welchen Methoden er Bilder sammeln kann, die den wissenschaftlichen Aspekt mittels alternativer Formen der Fotografie direkt darstellen. Als Ausgangspunkt wählte er die Einteilung des Regenwaldes in verschiedene wissenschaftlich klassifizierte Gebiete mit spezifischen Merkmalen und sammelte neu interpretierbare visuelle Informationen. So nahm er fotografische Bodenproben aus den kategorisierten Bodenhöhen und testete die bereits definierten Flusswassertypen durch Papiertauchen. Die Dichte Laubs im Regenwald untersuchte er unter Verwendung von Fotopapier, welches bei Vollmond in den Bäumen aufgehängt waren, und Informationen über die Verbreitung und Zusammensetzung der Pflanzen wurden mit weiteren Bögen gesammelt, die wiederum stichprobenartig auf Boden- und Bewuchshöhe verteilt wurden.
Die so entstandenen, künstlerischen Arbeiten zeigen sowohl Licht- und Feuchtigkeitswerte sowie chemische Reaktionen mit den Test"objekten" durch deren physikalische Wechselwirkung mit den analogen Mitteln der Fotografie.
---
Amada Verde
Curated by Marte Kiessling
Opening: Friday, November 5, 2021, 7 p.m.
Special opening hours: from January 13 – 16, 2022 and January 20 – 22, 2022, the exhibition will be open between 2 – 6 p.m. and can be visited through the Courtyard of the Stiftung Warentest.
Participating artists:
Nathalia Favaro
Marte Kiessling
Milda Lembertaite
Amelia Prazak
Tina Ribarits
Luzia Simons
Stig Marlon Weston
Miki Yui
Exhibition website: www.amadaverde.com
Forests all over the world are vanishing at an alarming rate, there is no doubt about it. Just a mere 20 years ago, more than one-third of our planet was covered by forests. Since then, the number has dropped to an alarming low: to only a quarter of the land. This loss of forests threatens the economic and ecological basis at local, regional, and global levels. How will all of this affect our lives, our future, our survival?
The exhibition Amada Verde is showing a selection of Artists who participated in different parts of the international residency program LABVERDE, which was created to strengthen the limits of art through a broad array of experiences, knowledge sets, and cultural perspectives involving art, science, and nature. By participating in an intensive program in the Amazon rainforest in Brazil, the artists developed work about environmental issues and their experiences in the Amazon rainforest.
All of the artists deal with similar ideas and views on nature, sustainability, and the future of our planet, but they all approach the subject from different angles, hence creating a dense and lush "jungle" of artworks altogether. From humorous approaches and performative works to poetic artistic depictions of decay and the ever-repeating cycle of life, the show will invite the visitors to emerge themselves into the Amazon, the forest, the sounds, the smells …
About the participating artists:
Milda Lembertaite and Amelia Prazak
Amelia Prazak is a Swiss artist trained in London, she works across video, costume and performance. Her practice generates thoughts on the relationship between human beings, their bodies and their environment – the peculiar relationship that mankind has developed in its urge to appropriate, cultivate and control itself through interpretation. It is about observation, about fragments. Both her background in art and theatre has allowed her to foster a series of collaborations with choreographers, musicians, dancers and filmmakers. Her main body of work has been created in partnership with Milda Lembertaitė, with whom she has dialogues since 2011.
sistersfromanothermister.co.uk
Milda Lembertaitė works across different media that combines a nuanced critical investigation of our relationships with nature, technology and history with a freewheeling spirit of material exploration and sly, often surreal playfulness. How can we find ways to help when whatever we touch we steal? What does it mean to join together to protect using technologies that intrinsically harm? It is these tensions, between intimacy-with and alienation-from, between being an ally and being a tourist, that act as a foundation for Lembertaitė's practice.
By weaving together objects natural and technological, and drawing from histories personal, collective and geological, Milda blurs the boundary between experiences human and non-human and nods to what is, no doubt, a sometimes beautiful, sometimes tragic, but always shared, fate and asks: How might we remember from where it is we came?
Miki Yui and Nathalia Favaro
Nathalia Favaro, born in São Paulo, Brazil, is an architect, designer, and artist. These fields play complementary roles in her research. She uses clay, drawings, photography, and video. Favaro studied architecture at Mackenzie University in 2006 and design at Senac in 2010. She participated in several artist-in-residence programs, for example at EKWC-European Ceramic Work Center in the Netherlands 2017, at Gaya Ceramics, Indonesia, and Labverde, Brazil 2018.
Miki Yui, born in Tokyo, Japan, is an artist, composer, and musician based in Düsseldorf Germany since 1994. As a Multi-disciplinary artist, she is crossing the boundaries of music, performance, drawing, and installation. With a background in fine arts, she explores the grey zone of our perception and imagination and creates subtle and poetic work. She studied at the Tama Art University in Tokyo, the Kunstakademie in Düsseldorf, and the Media Art Academy. Her works are shown in Europe and Asia.
"Miki Yui´s work deals with the memory of lived events. Focusing in particular on images and sounds, it reveals the trace, or wake, that these leave behind as they fade, after having appeared (in the former case) or been produced (in the latter)."—Carlo Fossati, e/static
Both artists collaborated on the film FLUX, which will be shown at HAL. FLUX is a film, a poetic essay, showing Nathalia's journey through the Amazon Forest and her Meetings with protagonists from the forest and the riverside.
Luzia Simons
Luzia Simons, born in Quixadá, Ceará, Brazil, is a graduate of History and Fine Arts at Sorbonne University in Paris. She lives and works in Berlin, Germany. Simons is pursued by historical references and unstilled by curiosity. The immersion in the Amazon Forest led her to reflect on the mechanisms that renew it, annul it, transform it. European naturalists recorded Brazilian nature in their watercolors, drawings, and travel descriptions. Her watercolors were created from leaves gathered during the residence. However, instead of a traditional botanical illustration, her focus is on the leaves' void spaces, which form the dichotomy between presence and absence. In this sense, the watercolors serve as a metaphor for the process of transformation of the forest, driven by men and their economies' resulting acceleration of climatic conditions, into a great emptiness.
Tina Ribarits
Born in Vienna, Austria, lives in Berlin and Vienna. Ribarits works with a conceptual approach by applying various media about the topics of ecology, colonial and feminist pasts, exoticism and non-anthropocentrism. She combines videos, photos, drawings and sculptural elements to create installative environments.
At the center of her work "the other planet", both spatially and conceptually, is a lush, green forest. The camera moves slowly over huge leaves, examining every corner and immersing the viewer in this overwhelming space … As in other works by Tina Ribarits, however, there is a twist. This apparent simulation indicates computer-generated, stereoscopic 3D imaging, but is the result of Ribarits 'real stay in the Brazilian Amazon …
However, the work does not want to ignore the colonial history of the Amazon, or the colonial implications of using "the real" against the other. A video showing a long, insistent take along the Amazon River is a clear, albeit multifunctional, reference to a number of sources that evoke these stories: from "Heart of Darkness" to "Apocalypse Now" to " Fitzcarraldo". The Congo, Vietnam, the Peruvian and Brazilian Amazon are merged into a single colonial point of view, on a boat, sailing in the water; part of the scene, but also outside of it. (Johanna Linsley)
Marte Kiessling
Humanity long desired a space they call paradise; this mystical place humans think they were exiled from and where they want to return to ultimately. John Milton, in his epic novel of the same name, describes the painful loss which accompanies the lost paradise, but he is not the only one—the quest for return possesses the dreams and wishes of most people, mostly via the path of religion and seen as the goal for righteous behavior. But back to reality—what is it really, this so-called paradise? This idea, this path, this dream? Is it a place, a physical space on our planet, or a mystical one in the afterlife? Or could it be a feeling? A dream? A state of mind? The film PARADISE LOST — THE EDITION OF WISHES follows this thought by asking various individuals the same question: "What does 'Paradise' mean to you?" Set against the backdrop of one of the last real paradisiac places on earth, the Amazon Rainforest, the answers differ from religion to fear of the unknown, from ideas of a perfect day to the rejection of the idea of paradise in the first place. Kiessling was born in the South of Germany. She currently lives and works in Berlin, regularly participating in projects, shows, and artist residencies around the world
Stig Marlon Weston
Working with process-oriented photography, Weston is questioning if photographs really can recreate a truthful viewpoint, or manage to depict and clarify the subjective interpretation?
Challenging the tradition of landscape photography, he took part in LABVERDE to look at how he could collect imagery depicting the scientific viewpoint and method of the subject. Choosing as a starting point the known classification of the rainforest into distinct areas with specific characteristics, he collected samples of visual information that could reveal knowledge through new forms of interpretation. He made photographic soil samples from the categorized levels of ground elevation and the defined river water types were tested through paper submersion. The density of jungle foliage was investigated using photographic film hung in the trees under the full moon and information on the spread and makeup of plants was collected with photo-paper dispersed in a random sampling spread of set variations of ground and jungle elevation. The test results show light and humidity levels as well as a chemical reaction with the test subjects through their physical interaction with the samples.
Mit freundlicher Unterstützung / With kind support