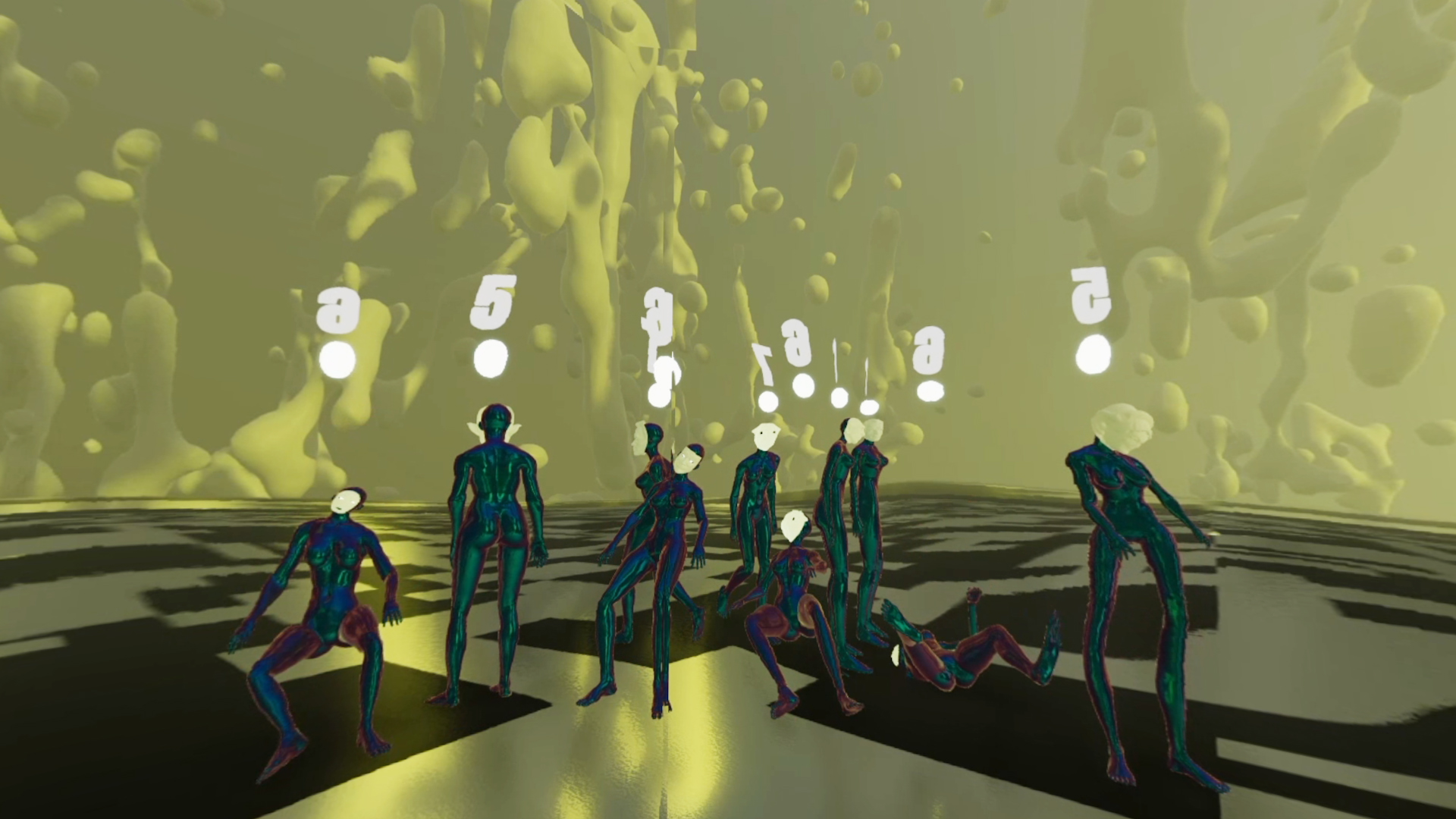 Resonanz der Realitäten / Resonant Realities
VR KUNSTPREIS der DKB in Kooperation mit CAA Berlin
17. April bis 4. Juli 2021
Please scroll down for English version
Mit den Arbeiten der Stipendiat*innen:
Banz & Bowinkel
Evelyn Bencicova
Patricia Detmering
Armin Keplinger und
Lauren Moffatt
Kuratiert von: Tina Sauerländer (künstlerische Leiterin)
Jeder Mensch nimmt die Welt mit anderen Augen wahr. Die eigene Perspektive bestimmt den persönlichen Eindruck von unserer Umgebung. Kommunikation und Austausch eröffnen die Möglichkeit unterschiedliche Sichtweisen kennenzulernen und zu verstehen. Dies ist nichts anderes als eine Resonanz verschiedener Realitäten, die den eigenen Blickwinkel in Beziehung zu anderen setzt und ihn so erweitert. Im besten Fall entsteht so ein offenes und empathisches Miteinander in unserer Gesellschaft.
In der Ausstellung interagieren wir mit Virtual Reality-Kunstwerken, die eine digitale Resonanzebene zur physischen Welt bilden. Wir treten in Kontakt mit virtuellen Wesen, beobachten zwischenmenschlichen Austausch oder die Verständigung unter den künstlichen Intelligenzen. Die digitalen Arbeiten resonieren im Ausstellungsraum in dazugehörigen ortsspezifischen Installationen. Durch die Gegenüberstellung von physischer und virtueller Welt erschließen sich die unterschiedlichen Rahmenbedingungen, die für die jeweiligen Orte gelten. Denn abhängig von Umgebung und Perspektive stellen sich Objekte anders dar und Kommunikation folgt anderen Gesetzmäßigkeiten.
Die künstlerischen Arbeiten vermitteln ein tieferes Verständnis der digitalen Welt. Sie zeigen Technologie als menschliches Produkt, das von unseren Werten und Normen geprägt ist. Durch unsere Auseinandersetzung mit den Werken eröffnet sich die Möglichkeit, unser Verhältnis zu Kultur, zu unseren Mitmenschen und zu den uns umgebenden Maschinen und Technologien zu hinterfragen und eine Überprüfung unseres Denkens und Handelns anzustoßen.
Eine Ausstellung des VR KUNSTPREIS der DKB in Kooperation mit CAA Berlin
---
Featuring the works of the grant recipients:
Banz & Bowinkel
Evelyn Bencicova
Patricia Detmering
Armin Keplinger and
Lauren Moffatt
Curated by: Tina Sauerlaender (Artistic Director)
Each individual perceives the world through different lenses. Our personal views determine our impressions of our surroundings. Communication and exchange enable the possibility of encountering and understanding other outlooks. This act can be understood as a resonance of various realities. By putting one's own perspective in relation to another's, it is possible to expand our own. In the best case, this process may create an open and empathetic coexistence within our society.
In the exhibition space, we interact with virtual reality artworks that here form a digital resonance of the physical world. We encounter virtual beings, observe interpersonal exchanges, and witness arrangements among artificial intelligence. The digital works resonate in the exhibition space in corresponding site-specific installations. The contrast between the physical and computer-generated worlds reveals the divergent parameters that apply to each location. Depending on the environment and one's own viewpoint, the objects appear in variants and communication follows a different set of rules.
The artistic works reveal a deeper understanding of the digital realm and present technology as a human product which is inextricably linked to our values and norms. Our engagement with these works unlocks the possibility of questioning our relationship to culture, to our fellow human beings, and to the machines and technologies that surround us. This process consequently prompts a reexamination of our thoughts and actions.
An exhibition of VR Kunstpreis by DKB in cooperation with CAA Berlin.
---
PRESSESTIMMEN (Auswahl)/ PRESS REVIEWS (selected)
"In einer Zeit, die es durch Reisebschränkungen kaum zulässt, fremde Orte zu erkunden, ist die kostenlose Ausstellung mit fünf neuen Welten … die perfekte Alternative."
(Weltkunst, Sophie Angelov über Resonanz der Realitäten, 18.04.21)
"Die Ausstellung Resonanz der Realitäten funktioniert tatsächlich immersiv, allen Vorbehalten einem Wort zum Trotz, das in jüngerer Vergangenheit ziemlich strapaziert wurde. Wer im HaL das technische Equipment aufsetzt, der vergisst fast sofort die Umgebung zugunsten ziemlich spektakulärer Renderings"
(Tagesspiegel, Christiane Meixner über Resonanz der Realitäten, 19.04.21)
"The jury were impressed both with boundary-pushing aesthetics and the socially critical perspective of the selected works. "They are questioning today what kind of world we want to live in tomorrow," noted the prize announcement."
(Forbes, Stephan Rabimov über Resonanz der Realitäten, 27.11.20)