Tobias Dostal
PERPLEXY
12. September – 17. November 2019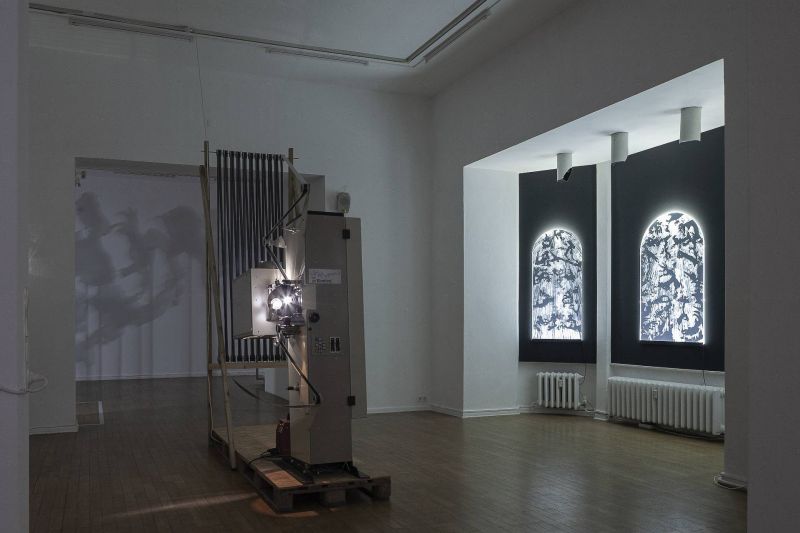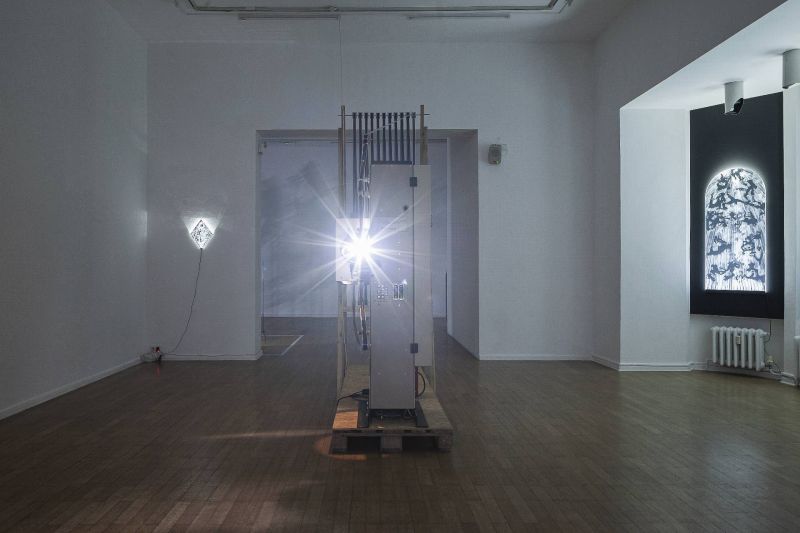 please scroll down for English version
Eröffnung: Mittwoch, 11. September 2019, 19 Uhr
Unter dem Titel PERPLEXY zeigt das Haus am Lützowplatz (HaL) die erste Berliner institutionelle Einzelausstellung des Zeichners und Objektkünstlers Tobias Dostal (*1982). Es werden mehrere neue Arbeiten präsentiert, die vom Künstler ortsspezifisch konzipiert wurden. Die Besucherinnen und Besucher betreten beim Eintritt in die verdunkelten Ausstellungsräume eine von der frühen Geschichte des Kinos inspirierte Welt, in der diverse Illusionsapparaturen ihre zum Teil geräuschvolle Arbeit verrichten. Es handelt sich dabei vor allem um Weiterentwicklungen und Variationen von Dostals kinetischen Lichtskulpturen und Animationsdisplays aus Acrylglas. Sie beruhen auf einem inszenierten ästhetischen Bruch, der nach der Verblüffung über den Bildzauber die Mechanismen seiner Erzeugung bloßlegt. Das Vorführen und die Wahrnehmung von Bildern sind das eigentliche Thema von Tobias Dostals Arbeiten, die sich unter anderem als Antwort auf die Glätte und Verführungsmacht digitaler Virtualität verstehen lassen.
Tobias Dostal lebt seit 2014 in Berlin und war während seines Studiums 2004-2011 an der HBK Braunschweig Student von Walter Dahn, Thomas Virnich und Christoph Schlingensief. Als Assistent von Schlingensief hat er ihn auf verschiedenen Reisen begleitet – so zum Beispiel zur Inszenierung des "Fliegenden Holländers" 2007 in Manaus. Dostal war 2015 der erste Stipendiat von Schlingensiefs Operndorf- Stiftung in Burkina Faso, wo eine Serie von animierten Wasserzeichnungen entstanden ist, die wesentlich zur Vergabe des Horst-Janssen-Grafikpreises der Claus Hüppe-Stiftung 2017 an ihn beitrug. Der Preis ist einer der höchstdotierten Preise im Kontext der Zeichenkunst und wird alle drei Jahre verliehen, um neue innovative Positionen im Bereich der Zeichnung und der Grafik vorzustellen.
Weitere Informationen zum Künstler: www.tobiasdostal.com
Zur Ausstellung wurde eine Edition geschaffen, die über das Haus am Lützowplatz bezogen werden kann:
Tobias Dostal
Dia-Mond, 2018
Plexiglas, LEDs, elektrische Schaltung
30 x 40 x 1,5 cm
Auflage 10 + 2 AP
Preis: 1.300,- Euro
Courtesy of KWADRAT, Berlin
Die Ausstellung findet statt in Partnerschaft mit der Berlin Art Week 2019
---
Opening: Wednesday, September 11, 2019, 7 pm
Under the title PERPLEXY, Haus am Lützowplatz (HaL) presents the first institutional Berlin solo exhibition by the graphic and object artist Tobias Dostal (*1982). Several new works are presented that were conceived by the artist on a site-specific basis. Upon entering the darkened exhibition rooms, visitors step into a world inspired by the early history of cinema, in which various illusion machines perform their occasionally noisy work. For the larger part, these are upgrades and variations of Dostal's kinetic light sculptures and animation displays made of acrylic glass. They are based on the dramatization of an aesthetic rupture that, as the amazement about the magic of the images settles, exposes the mechanisms of its creation. The presentation and perception of images are the real theme of Tobias Dostal's works, which could also be understood as a response to the smoothness and seductive power of digital virtuality.
Based in Berlin since 2014, Tobias Dostal was a student of Walter Dahn, Thomas Virnich and Christoph Schlingensief during his studies at the HBK Braunschweig in 2004-2011. As an assistant to Schlingensief, he accompanied him on various journeys – among them the production of the "Flying Dutchman" in Manaus in 2007. Dostal was the first grantee of Schlingensief's Foundation Operndorf in Burkina Faso in 2015, where a series of animated water drawings were created that notably contributed to him receiving the Horst Janssen Print Prize by the Claus Hüppe Foundation in 2017. The prize is one of the most highly endowed prizes in the context of the art of drawing and is awarded every three years, with the aim of presenting new innovative positions in the field of drawing and graphics.
Further Information about the artist: www.tobiasdostal.com
For the exhibition an edition was created which can be purchased at Haus am Lützowplatz
Tobias Dostal
Dia-Mond, 2018
Acryl, LED, electrical circuit
30 x 40 x 1,5 cm
Edition 10 + 2 AP
Price: 1.300,- Euro
Courtesy KWADRAT Gallery
The exhibition is presented in partnership with Berlin Art Week 2019
Banner image: Tobias Dostal, Hieronymus tanzend [dancing], 2019 (detail)
Acryl, LEDs, metal, electronic circuit. Photo: Markus Georg
Courtesy of KWADRAT, Berlin
---