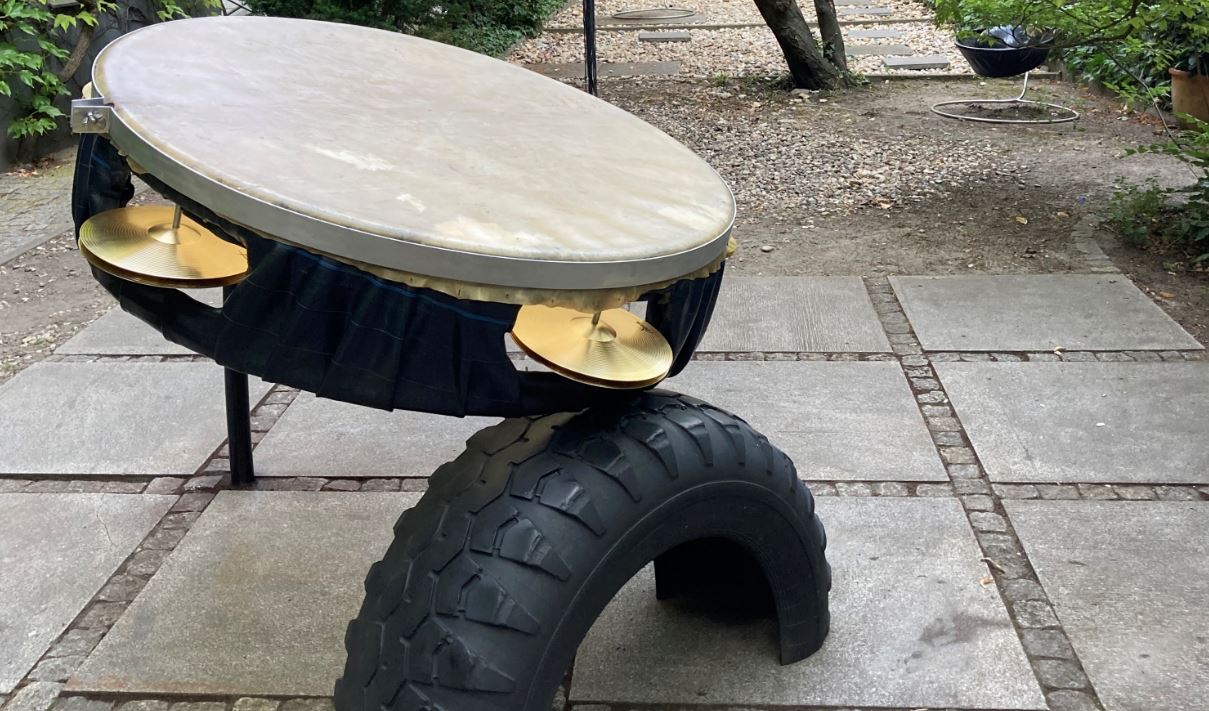 Viviana Abelson - GRAVITY
HaL-Hofskulptur #5
25. Juli – 08. November 2020
hofskulptur
Please scroll down for English version
HaL is closed until August 26th because of exhibition conversion!
Das HaL ist wegen Ausstellungsumbaus bis zum 26. August 2020 geschlossen!
Eröffnung: Freitag, 24. Juli 2020, 19 Uhr*
GRAVITY
Die universelle Anziehungskraft, die zwischen allen Materien wirkt, unterwirft alle Körper den Abwärtssog ihrer eigenen Masse.
Für die 5. HaL-Hofskulptur hat Viviana Abelson drei neue Werke konzipiert; die ersten Außenskulpturen in ihrem Schaffen. Diese Arbeiten knüpfen an die Auseinandersetzung der Künstlerin mit Materialität, Kraft sowie Interaktivität an.
Abelsons Installation setzt sich aus drei Gruppen zusammen: Tambourine, ein großformatiges Perkussionsinstrument aus Metall, Gummi und Leder, welches zur Partizipation einläd und die Klänge mit der natürlichen Umgebung des Gartens verbindet. Die lederne Oberfläche des Objekts wird durch die zweite Arbeit aus der Gruppe Sticks ergänzt. Sie verweisen auf den Moment der Berührung und die rhythmische Aktivierung des Perkussionsinstruments. Twins, das dritte Werk, besteht aus zwei freistehenden Skulpturen aus Metall, Gummi, Wasser und Paraffin, die in ihrer Form das Gewicht des Wassers artikulieren und in deren Oberflächen sich die tiefen Frequenzen abzeichnen. Ihre spiegelnde Oberfläche nehmen das Licht des offenen Himmels in einem nachklingenden Call-and-Response auf.
Zu diesem Anlass hat Abelson die Künstlerin Bitsy Knox eingeladen ein Gedicht beizutragen.
Viviana Abelson (*Buenos Aires, 1985) absolvierte ihr Kunststudium 2018 an der Städelschule (Frankfurt) in der Filmklasse von Prof. Douglas Gordon. Zuvor besuchte sie die Klasse von Prof. Josephine Pryde's an der Universiät der Künste. Zu ihren jüngsten Einzelausstellungen zählen Silver Glaze am Nassauischer Kunstverein Wiesbaden (2019), Edible bei Graf von Westphalen (Frankfurt, 2019) und Sol de Noche bei Zmud Projects (Buenos Aires, 2018). Ihr Werk ist in zahlreichen Gruppenausstellungen gezeigt worden, u.a. And This is Us (Frankfurter Kunstverein), (Un-) Real E-state (3HD Festival Berlin), Sinkhole (Tor Art Space), After Rubens (Städel Museum), Self bites Self (Kunstverein Göttingen).
*Die Realisierung der Veranstaltung erfolgt gemäß der zu diesem Zeitpunkt geltenden SARS-CoV-2-Infektionsschutzverordnung des Landes Berlin
---
Opening Friday 24th July 2020, 7 pm*
GRAVITY
The universal force of attraction acting between all matter, makes all bodies subject to the downward pull of their own mass.
For her exhibition in the backyard of Haus am Lützowplatz, Viviana Abelson has developed three new groups of works. These pieces, her first outdoor sculptures, continue Abelson's exploration into the materiality of contrast, force, and stability in relation to the potential and power of action. Particularly for this occasion, Abelson has invited the artist Bitsy Knox to collaborate with a poem available at the exhibition.
Abelson's installation is composed of "Tambourine", a large-scale percussion instrument made of metal, rubber and leather, is an open invitation to be performed and to incorporate sounds into the atmosphere of the natural surroundings of the garden space. Its leather surface is complemented by "Sticks", a group of rubber and wooden drum sticks heralding the touch that activates rhythm. "Twins" the third body of work, is a pair of self-standing sculptures combining metal, rubber, water and paraffin denoting the weight of the water and the strength of low frequencies. Its mirror surface bears witness to the light of the open sky, in a reverberant call-and-response.
Viviana Abelson (Buenos Aires, 1985) graduated from Städelschule in 2018 from Filmklasse with Prof. Douglas Gordon. Previously attended Prof. Josephine Pryde's class at UdK. Her most recent solo exhibitions include Silver Glaze at Nassauischer Kunstverein Wiesbaden (2019) Edible at Graf von Westphalen (Frankfurt, 2019) and Sol de Noche at Zmud Projects (Buenos Aires, 2018). Her work has been shown in group exhibitions such as And This is Us Frankfurter Kunstverein, (Un-)Real E-state 3HD Festival Berlin, Sinkhole TOR Art Space, After Rubens Städel Museum, Self bites Self Kunstverein Göttingen among others.
*The event takes place in accordance with the SARS-CoV-2 containment measures ordinance of the state of Berlin valid at that time.
---